The Origin™ Decision HUB™ provides capital and asset-centric predictive analytics and real-time monitoring capability that optimizes critical infrastructure management, transforming facility health. The primary goal is to help executives objectively deploy resources for both OpEx and CapEx to reduce and mitigate risk and predictively analyze the effect of that capital before deployment.
The Origin Decision HUB delivers powerful asset management, facility management, UAR, asset assessment application app, enhanced compliance, real-time FCA, AEM, risk mitigation, the Facility Health Index and so much more.
Origin solution is also both a System of Record and a System of Engagement. The functionality enables direct engagement within and between facility teams, finance teams, PDC teams, and master planning teams. Role-based security settings can expose or restrict data input and/or modification capabilities.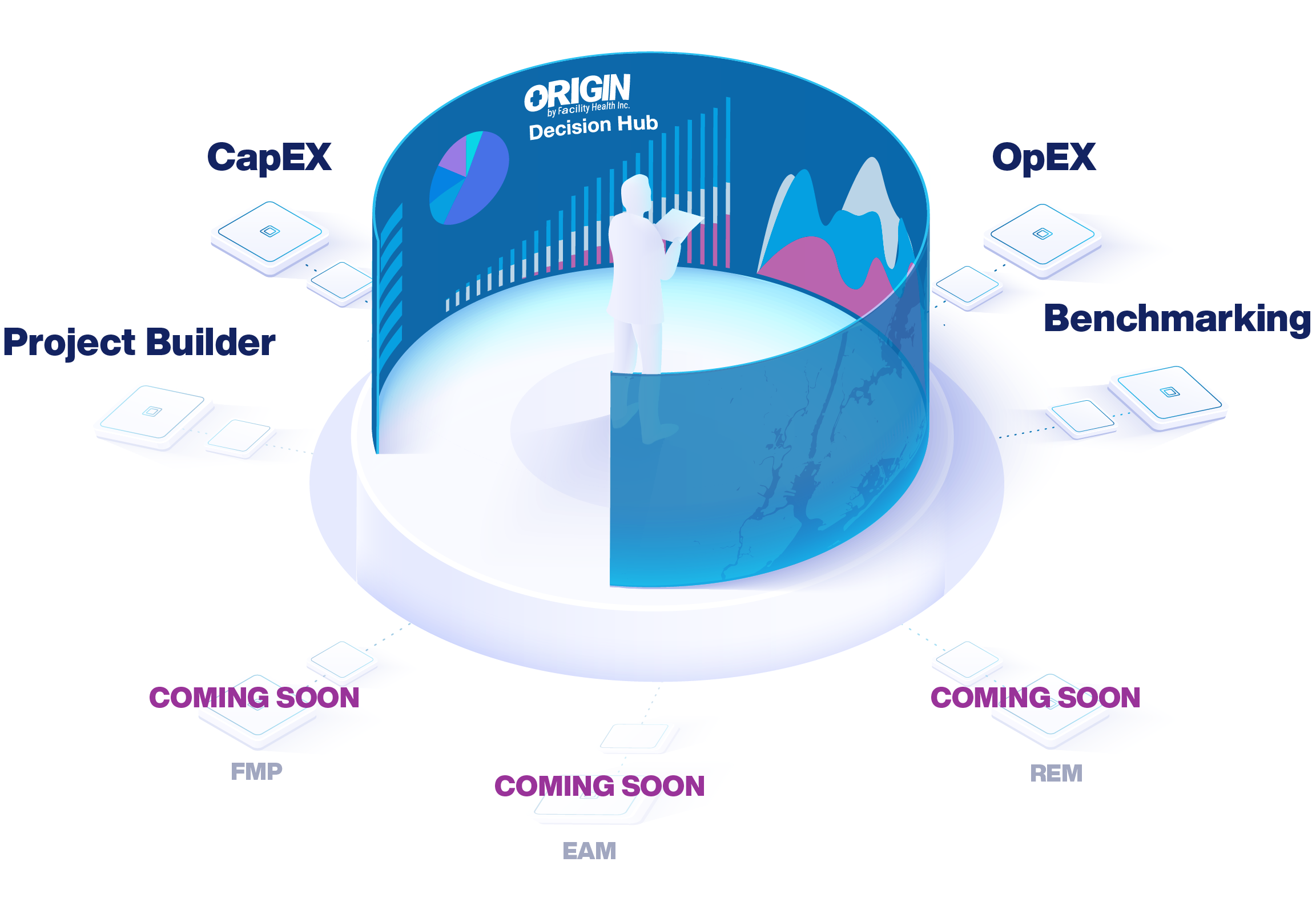 Do you have the tools and data you need to understand your needs and secure the right amount of capital for your facility? It's time to look at a predictive maintenance strategy and Asset Life Cycle Care.
Investing in preventative maintenance can generate an ROI of up to 300%! Divesting, while appealing today, will actually increase long-term capital needs and negate any short-term savings.
Gain first of its kind visibility which allows you to Compare your enterprise against FHI's national portfolio of interactive live dashboards.  Our Benchmarking provides you with the ability to set future goals or run what-if capital investment scenarios to set your data into action.
Now you can prescriptively advise your organizations decisions by being able to Toggle between organization, building, and asset level to benchmark at the levels you need.
Today's management of critical infrastructure and high value assets demands more from you and your staff than ever before. The complexity of the ever-changing facilities environment poses an overwhelming burden on facility and plant operations executives. Your burden is too significant, and the risk is too high to rely solely on outdated spreadsheets and static assessment reports. To survive, facility and plant operations executives require a highly skilled partner that genuinely understands capital planning and CapEx and OpEx investment models and its ever-increasing complexities.
FHI is highly sought after for real-time CapEx and OpEx investment models and its ever-increasing live data-intelligence and benchmarking, simplifying facility and asset risk while helping you solving the capital planning puzzle.
Partner with FHI… Prioritizing Investments. Mitigating Risk. Transforming Facilities.