WHAT IS A FACILITY HEALTH INDEX™?
The Facility Health Index™ is a ranking and prioritization service that assembles and distills detailed information from a Facility Condition Assessment into an aggregate score. Unlike the traditional Facility Condition Index (FCI), which represents a static score based upon a one-time assessment, the Facility Health Index™ is created using a proprietary formula which includes both preventative maintenance performance and unscheduled repairs, as well as the detailed information from the Facility Condition Assessment to represent the condition of each asset.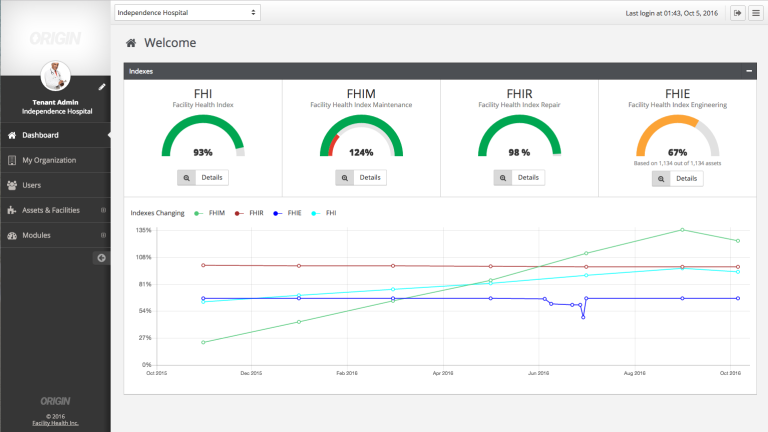 By utilizing Origin's™ unique ability to pull live data from a customer's existing CMMS (Computerized Maintenance Management System) database, the Facility Health Index™ represents a real-time condition score at the individual asset level, as well as through any series of aggregate levels, including area, zone, floor, building and any other user defined level.
The Facility Health Index™ also involves risk assessment and risk ranking as related to facility assets and the remaining useful life of those assets.
Features:
Scalability

 Facility Health Index™ vs. Facility Condition Index

Connection to CMMS

Forecasting Useful Life

Developed by Industry Professionals
Benefits:
Asset Based – Allows Customer to Prioritize by Assets Instead of Buildings

Repair or Replace an Asset Prior to Failure

Dynamic vs. Static Database

Driven by Identified Needs and Areas of Improvement
Watch Our Video About the Facility Health Index™. It's Like a Smart Watch for Your Facility.