GAIN CONTROL OF YOUR CMMS DATA AND SEE YOUR FACILITY TRANSFORM
It's no secret that organization, consistency, and optimization are our favorite words – especially when you're talking about CMMS data. Effectively using the system, and the information that can be gained, is critical to the long-term success of your facility. Overhauling an asset structure that's been used for years can be daunting, but the transformative effect of a well-designed system is huge.
It all starts with a complete understanding of how the CMMS system is being in your facility today, and making sure that the system is fully aligned with how you actually perform maintenance and manage the facility. How are your assets currently organized? How accurate is your current inventory? What definition of asset are you using? How specific are your categories?
The answers to these questions have a big impact on the way your facility is run. If your assets are slotted into very specific categories, you may end up with a detailed list that's rarely accurate and difficult to maintain. If your categories are too general, you have a great overview of equipment and supplies, but may smaller assets may be overlooked or difficult to locate in the system.
So What's the Best Way to Organize Your Facility's Assets?
The short answer: there isn't one. Every facility has different equipment, maintenance styles, and needs. The best way to effectively categorize your assets depends on what works for your staff. A tailor-made solution is always what's going to work best.
That's where Facility Health comes in.
We'll help you understand how CMMS is being used in your facility today and help align your asset structure with how it will actually be managed. From there, a Dynamic Facility Condition Assessment can be conducted, data standards set, and a predictive maintenance schedule laid out.
How Are Your Assets Currently Organized? How Accurate is Your Current Inventory? What Definition of Assets Are You Using? How Specific Are Your Categories?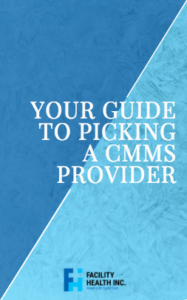 Get our Free EBook to learn the best way to organize your facility's assets.